Coast to Coast 2008 - Introduction
DEDICATION
.

This journal is dedicated to the memory of Gerald Jones, my father in law, who unexpectedly passed away on 4 June 2008, whilst this journal was under compilation.

Rest in Peace Gerry and God bless you.
'Anyone up for a walk in the parks – it's a simple stroll across the gentle rolling hills of The Lake District, Yorkshire Dales and North Yorkshire Moors in Northern England – do I hear YES! - then let's get it booked'.
Nothing I say in this journal is intended to offend or embarrass anyone. If anyone is offended by anything I have written then I apologise and I will make any amendments necessary to rectify any real or perceived problem.
My first C2C walk was in June 2006 when I made the crossing in 16 days and raised monies for Macmillan Cancer Care. This time it was to be a month earlier in the season i.e. May and over 14 walking days. I was joined by two former workmates Malc (who walked the first 4 days with me in 2006) and Mick who has been a regular walking colleague for many years and who has organised day walks for a group of us in the Yorkshire Dales and Peak District for the past 3 years – followed by a few traditional ales and a curry in Bradford (from the Dales) or Sheffield (from the Peaks). Both are good walkers and more than capable of completing the crossing so the main aim was ensure we were all well equipped, fit and ready for our 'walk in the parks'.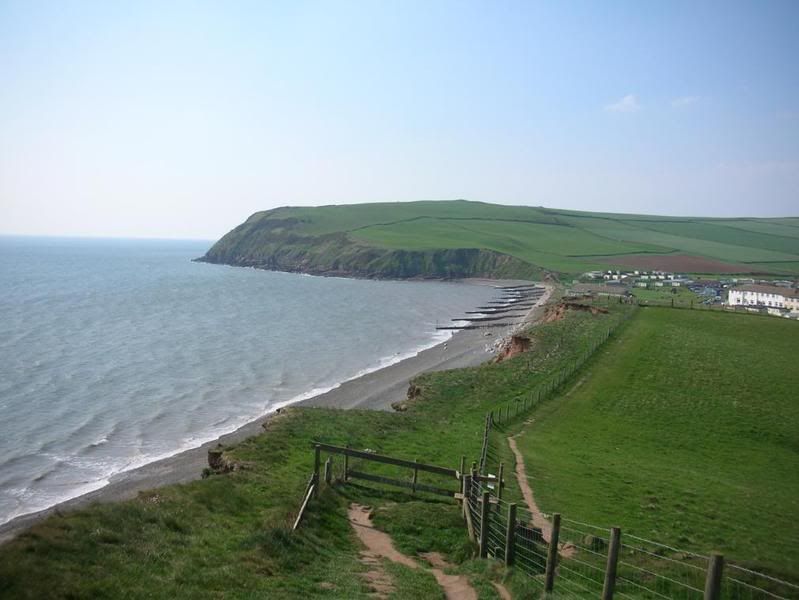 We each had our own motivating factors for wanting to complete the walk. My own include that I always enjoy a challenge and due to the fact that I thoroughly enjoyed the walk 2 years ago I wanted to do it again a couple of days quicker and with some walking colleagues. I always enjoy seeing others achieve their own challenges and I was glad to be a part of helping Malc and Mick complete the walk. I suppose Malc's main aim was to complete and enjoy the full walk this time as he could only manage a few days off work last time and could only complete the first 4 walking days. Malc has recently changed jobs and was in the ideal situation to take some extended leave to enable him complete the walk. Mick had also retired from one job at the start of the year and was now self employed making it a little easier for him to plan the walk having more freedom. The catalyst for Mick wanting to do the walk was the untimely death of one of our walking pals, Glyn, in October 2007. I had often talked about doing the C2C walk again and I recollect Mick saying to me 'get me down for that C2C walk' – on the basis of none of us know what tomorrow brings.
So the decision was made, around the time of Glyn's funeral last October, we would arrange the C2C walk for May 2008. The timing was to take account of pre-planned family holidays, change in work and other commitments. We were hoping that a fourth colleague would join us to make a round figure of 4 walkers but for a number of reasons this did not happen. It would have been easier to book for 4 i.e. 2 twin rooms than 3 where a supplement would be charged for a double or twin room used as a single. (By the way Chris you missed a cracking walk).
I agreed to take care of the accommodation booking and correspondence, partly because I had more time on my hands than the others and also due to the fact that I had already been through the process of accommodation seeking/booking and had first hand knowledge of some of the problems to avoid. Based on experience I wanted to have the majority of our accommodation booked in the last week of November or first few days of December but I actually didn't start booking until December 11 as we were waiting for a decision from a potential fourth member.
When booking the C2C walk most people advise to book the accommodation blackspot of Keld first and this was probably more important due to the fact that the legendary Ernest & Doreen Whitehead had retired from that wonderful oasis at the head of Swaledale called Butt House. However, I wasn't too concerned at booking Keld first as in my view there is plenty of flexibility within the Upper Swaledale area to cater if we failed to get accommodation in Keld village itself but with the opening of the former youth hostel, now called Keld Lodge, there was no need to worry.
I had the route plan mapped out on the basis that we had agreed to start walking on Friday 9 May thereby finishing the walk on Thursday 22 May to ensure we would be finished in 14 walking days in time to travel back home to South Yorkshire just before the Spring Bank holiday weekend. I have previously recorded that I enjoyed, and recommended, all of the accommodation I stayed at in 2006, therefore I had a rough idea as to where I wanted us to stay but bearing in mind I would not be able to book us in at all the places I had previously stayed as we were on a different schedule. This meant that as we were not staying in places like Orton or Danby Wiske I couldn't book Barn House or Ashfield House. I tried to book some other 'gems' such as Brookfield House in Shap, but Margaret was already fully booked, and Oak Lodge in Grasmere but Alison was also fully booked. I thought to myself what a difference 2 weeks make in booking accommodation.
Anyway undeterred by the disappointment at not being able to book all the places I had stayed at before I was quite pleased to have secured bookings at some of the other 'gems' like Stonehouse Farm in St Bees, Fletcher House in Kirkby Stephen and Intake Farm in Littlebeck. I managed to book the majority of our accommodation within a few days but the main problem I encountered securing a booking in the heavily commercialised village of Grasmere. It took me about 12 telephone calls to accommodation providers to secure a booking. Incidentally, none of the locations I tried and failed openly say in their advertising that they do not take 1 night bookings – Grasmere doesn't seem that interested in C2C walkers passing through in one day. I could understand the stance of such premises it if it was a weekend or bank holiday. I wonder how much time and money is spent by C2C walkers trying to book accommodation at these places especially those trying to book from overseas. As I say I managed to book some accommodation for us at the Glenthorne Guest House and having stayed there now, I am delighted with the choice.
The final piece of our accommodation jigsaw was filled on 3 January 2008 when I booked us in with the delightful Margaret and Len Sutcliffe at Ingle Hill, Great Broughton – a place I had always wanted to stay following the consistently positive walkers comments on journals and accommodation websites. Overall I was delighted with our itinerary and really looked forward to staying at all our intended B& B's. So all the accommodation was booked and letters/deposits sent off where requested. I had obtained some monies from Malc and Mick to cover the deposits etc. Although I had plenty of time to book our baggage transfer arrangements with the C2C Packhorse, who I had used in 2006, I sent an email to them informing them of our intention to use their baggage transfer services on the dates we had planned.
I had all the relevant maps, laminated sections of maps and guide books therefore no additional materials were required. I read about any up to date route diversions on the various waling forums. Mick had agreed to arrange transport for us to get to St Bees and from Robin Hoods Bay and it was quite natural for Mick to ask our group walking driver Pete to do the honours which Pete agreed to do. Pete would drive us up in the minibus and collect us in Mick's estate car from Robin Hoods Bay as the minibus was unavailable. We would obviously pay for fuel and treat Pete to a 'drink' for his troubles.
The proposed C2C route we intended to take wasn't a problem really – pretty much standard with a few variations available such as taking the northern shore around Ennerdale Water and we had provisionally agreed that if the weather was in our favour we would take the Helm Crag ridge route into Grasmere and the pinnacle of the C2C crossing i.e.of course Helvellyn and Striding Edge. I also intended visiting a few geocaches along the route as I did in 2006 but I had no need to plan for them now as I could afford to wait until a few days before our walk started to check on the appropriate geocache locations to put the coordinates into my GPS.